Hoverboards are the hottest vehicles around. they are the top items on birthday and Christmas Amazon wish lists. Kids want them and parents want to know which ones are the best. You can choose from self balancing scooters like
Swegway
, Razor, Tomoloo, GoTrax and many more. We have the answers for which are the best after testing out a ton of top models. Now our research has determined which are the best of the best. Let's see which one's are the best hoverboards for kids. Is it the Swagtron T1? The Razor Hovertrax? The Segway Minipro? Read on.
HOT DEAL
1. Air Blue The Best Hoverboard For Kids And Adults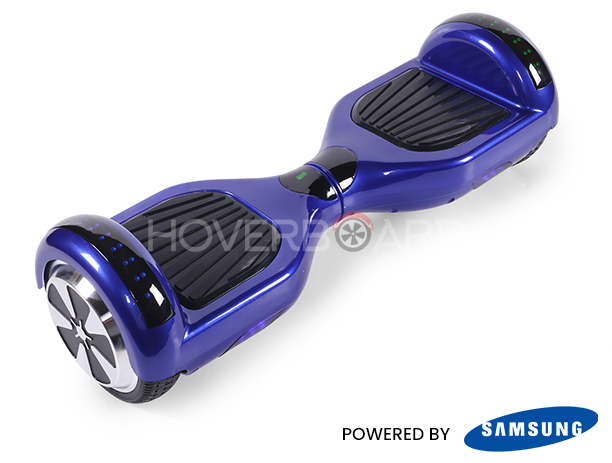 The best all-around
hoverboard for kids
and adults is the FLY Plus. It has all of the right features to please the masses, plus a good build quality. It comes with a BlueTooth speaker for music, a 2 hour charge time, bright LED lights, and a 350-watt motor. You can expect a smooth ride from this durable self-balancing scooter thanks to the 6.5-inch wheels with solid rubber tires s you cruise along at a top speed of 12 Kilometers per hour. It is fun and safe thanks to CE UL certifications. This balancing hoverboard with Bluetooth has a charge time of 2 hours and the range of 12 kilometers, making it perfect for running errands or just having fun with friends. The maximum rider weight capacity is 100 Kilograms.
Pros:
Great features
Bright LED lights
Great speed and running time
Cons:
2. Air Black Camo Hoverboard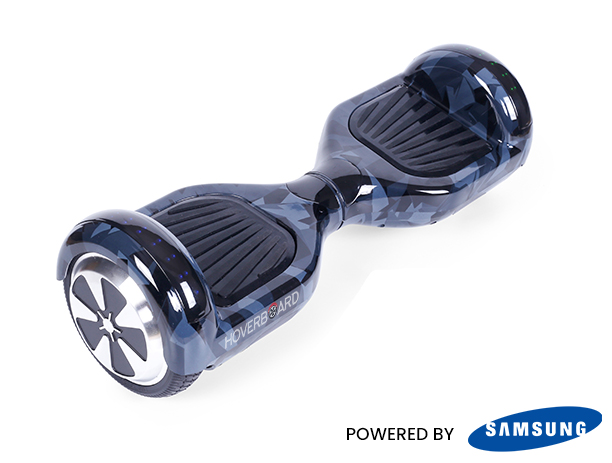 This self-balancing hover board is a great buy considering the features that you get. Beginners or pros will love it. A 350 watt motor along with a 4400 mAh battery will propel you to speeds up to 12 kilometers per hour and you can expect a 12 KM range, which should please most riders. It has 6.5 inch wheels and solid rubber tires that keep the ride smooth at top speeds. We appreciated that this is another fast charger with a charge time of just 2 hours. The maximum rider weight limit is 100 KG. It has bright LED lights that are great for keeping you safe during nighttime rides, is waterproof and it has a speaker so that you can listen to your music on the go. Battery life is pretty stunning since it will charge over 2000 times. You are getting your money's worth. And like all of the hoverboard picks, it is ul2272 certified.
Pros:
Great buy
Fast charging time
Great speed and range
Cons:
We loved it. Nothing bad to say here.
3. Air Hip-Hop Best Budget Hoverboard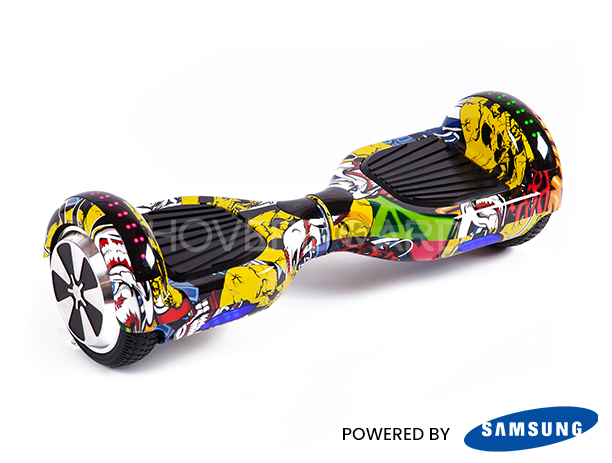 The Disco Swegway hoverboard is a reliable
hoverboard with Bluetooth
for those on a budget. With 6.5 inch wheels, color-changing LED lights, lightweight design, and a Bluetooth speaker, you are getting a great value. And when you factor in a maximum speed of 12KMH and charging times of to 2-3 hours per charge that gives you up to 2 hours of use time, you have a stellar value. It is powered by 2 x 350W silent drive motors, a safe battery casing, and a Li-Ion battery. This top-rated self-balancing scooter is a hit with kids for the performance and a hit with parents for the price. It performs as good as our top picks as well. It is easy to ride and it is ul certified.
Pros:
Great price
Solid performance
Upto 2 hours use time.
Cons:
4. Ranger Pro Pink Camo Hoverboard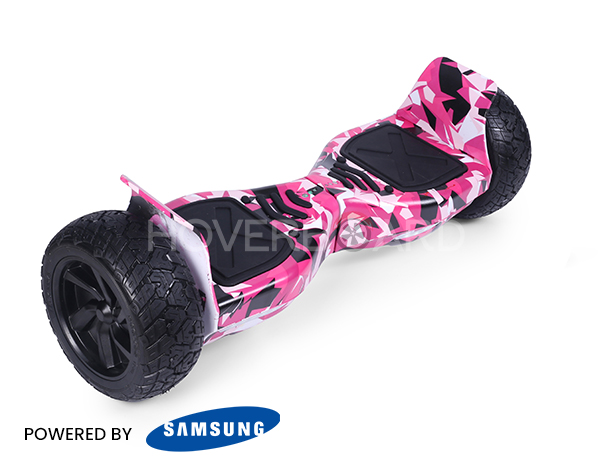 The Monster is well named. This 8.5-inch hoverboard rides on inflatable rubber tires for the smoothest ride has a top speed of 14 KM/H and a range of 12 KM per charge of the li-ion battery. It is a joy to ride and a solid performer. The BlueTooth speaker really sounds fantastic when you are riding. It has a maximum weight of 100 KG. The motor is a 350-watt motor that has some get up and go. Like all of the top rated picks in our buying guide, this one is also CE and UL certified for safety. The all-terrain off-road tires perform admirably on grass, mud, gravel, and asphalt. This is a fast charger, charging up in just 2 hours.
Pros:
Large tires
Great Speed
All-Terrain tires
Cons:
Not enough time in the day to ride it as often as I want.
Buy Now
5. Roller Pink Galaxy Hoverboard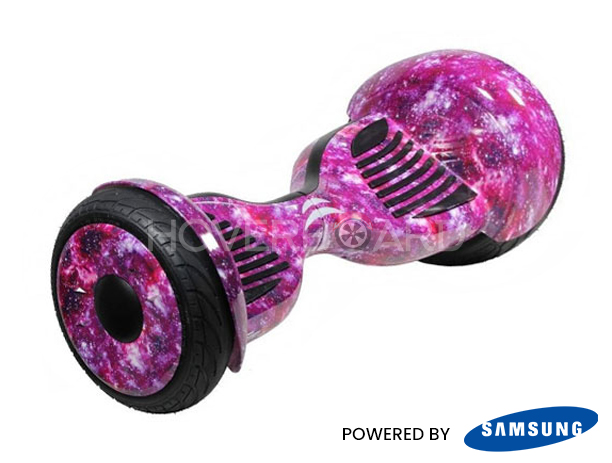 The Roller is a great hoverboard with LED lights, 10-inch all-terrain tires, Bluetooth speakers, a powerful
2 x 350
-watt motor and some good looks. It has a max speed of 9.95 miles per hour and a charging time of 1.5 to 2 Hours. The range on a full battery charge is 7.5~9.5 Miles. That's not bad at all. Other features include a durable aluminum frame and IP54 water resistance. The weight limit is 100 kg. It performed well in some off-road conditions like grass, gravel, woodsy terrain and mud, but not as good as our #1 pick. The Gyroor Warrior got stuck several times, but otherwise was a beautiful ride.
Pros:
10 inch tires
Decent maximum speed
Cons:
Could be faster
Gets stuck too easily
Buy Now
6. Roller Rainbow Lighting Hover + Kart - Best Hoverboard With Bluetooth and Lights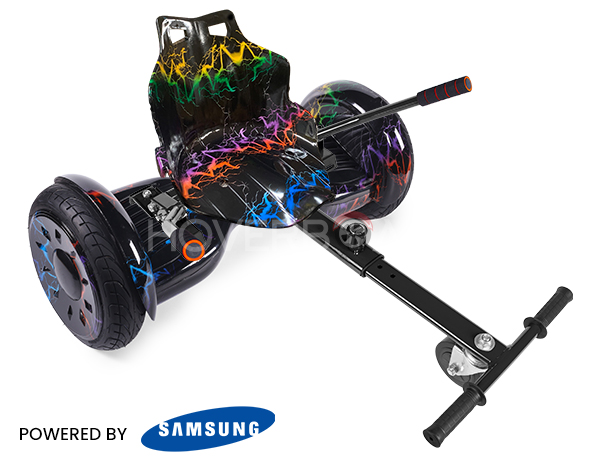 The Roller Music Rhythm self balancing hoverboard may be the most colorful hoverboard you can find as far as LED lights are concerned. Bluetooth 4.0 is here as well as an LED design that gives you a colorful light show when riding. This show-off of a vehicle has a top cruising speed of 12 km/h and a range of 10 km on a full battery charge. This Bluetooth hoverboard can hold riders up to 100lbs. The light show that it puts on is fantastic, as is the Bluetooth speaker, but the quality of the ride itself was not as smooth as its competitors and there's nothing else that is very special happening here. It is a good ride, not a great one, but it sure is pretty. And the build quality is decent.
Pros:
LED lighting is amazing
Bluetooth speaker
Cons:
Only an average ride and lacking in feature.
Lacking in features
Buy Now
7. Air Blue Galaxy Hoverboard + Kart - Best Self-Balancing Scooter For Young Kids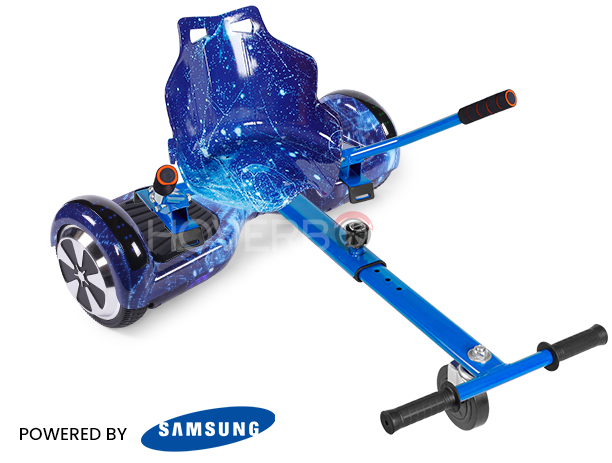 If you love Spider-Man and want a hoverboard with the Spidey theme, the NHT 6.5" Spider Web Edition is your choice. The spider motif is cute and younger kids will love it. Beyond that, it sports 6.5-inch wheels with vacuum Never Flat Tires, Dual 350W Dual Motors, training modes, LED headlights, and a builtin bluetooth speakers to play music. This hoverboard faired well in our tests as the perfect self-balancing scooter for young kids. It has just enough features to please them. We love the fast charging feature and the top speed of 6 miles per hour makes it safer for the smaller kids as they are just fast enough for them, but the top speed of 6 miles per hour is just fast enough for the smaller kids. It has all of the right safety features. You can find better charging times.
Pros:
Great design
Great tires
Powerful motors
Cons:
Buy Now
8. Air Hip-Hop Hoverboard With Kart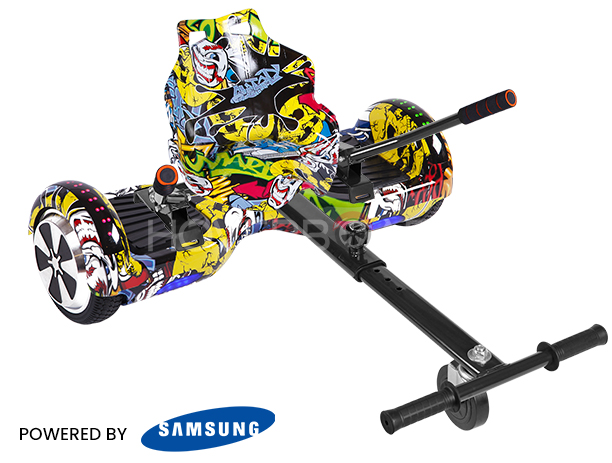 The air hip hop hoverbord is the best hoverboard on the market. With a range of 15 miles and a top speed of 6 miles per hour, The Air Hiphop is comparable to the Razor Hovertrax 2.0 is a safe bet for parents and a fun ride for kids. It also comes with silent 350-watt dual hub motors, a run-time of up to 115 minutes on a single charge and it can accommodate riders that max weight capacity up to 220 lbs. This smart self balancing scooter is not one of the fastest hoverboards with that maximum speed, but it offers a smooth ride at a safe speed for kids, but it could be faster. It is a good looking board, durable and reliable, but I wanted more features for the price. I did love the LED lights and it is a dependable personal transport that is ul2272 certified, so it meets strict safety standards.
Pros:
Durable
Good range
Looks great
Cons:
Buy Now
9. Ranger Camo Green - Best Entry-Level Hoverboard For M1x Kids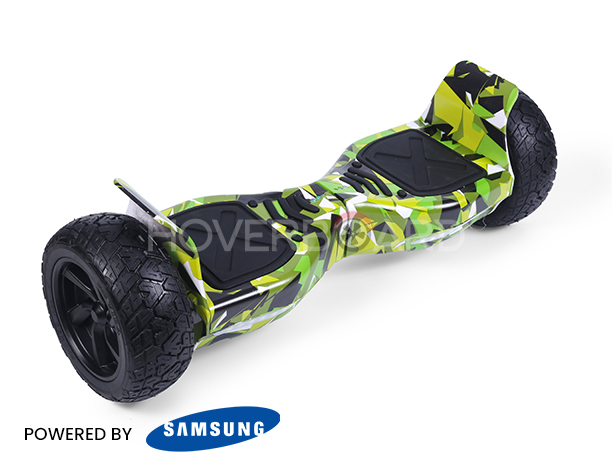 This Sisigad competitor is on our list as it is one of the best entry level hoverboard. Not only they are popular with kids, the 8.5 inch wheel makes it extremely beginner-friendly. It has LED lights and Bluetooth speakers enabling you to play your favourite music. This board has Quad Shield Technology and they can hit up12KM/H in speed. This board performed very well in our test results, you can get up 2 Hours of use per charge. You don't even have to wait around as this board charges within approximately 2 hours.. It is another that has 6.5 inch wheels, LED lights and a Bluetooth speaker, which is pretty standard for kids two-wheelers. Being an entry-level hoverboard, it has a long charge time of 3-5 Hours. However, it does have two 300 watt motors that propel it up to 9 miles per hour. With a range of 6-9 miles, you can see why it is a hit with new riders. It performed great in our test results.
Pros:
Perfect for beginners
Good speed
Cons:
Buy Now
10. Ranger White Camo - Best Hoverboard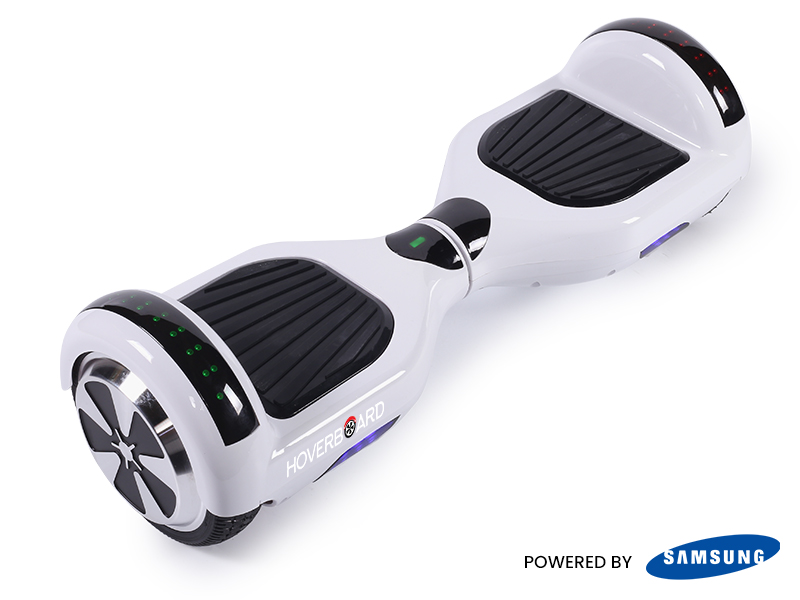 Riding a hoverboard is not just for boys. The girls love it too and the Tomoloo Music Rhythm (Pink) is the perfect self-balancing scooter for girls. Although boys can ride it too if they want. It sports 6.5-inch pneumatic tires, has a Bluetooth speaker built-in and plenty of LED lights. Add to that a 7.5-mile range, a 7.5 mph max speed and a charge time of 2 hours and a learning mode. This is a durable and sleek ride for anyone, but girls will get the most out of it. Like the rest of our top picks in our buying guide, it is UL 2272 certified. You likely know this hoverboard brand from Tomoloos Q2X.
Pros:
Styled for girls
Safe top speed
Cons:
Speed could be better
Lacks features
Buy Now